Get to Conference Venue: Marina Bay Sands
Location: 10 Bayfront Avenue, Singapore 018956
Directions to Marina Bay Sands: https://www.marinabaysands.com/company-information/directions-to-marina-bay-sands.html
From Singapore Changi Airport to the Conference Venue:
VIEW IN GOOGLE MAPS
Singapore is a small city-state, known as a City in a Garden. Exploring Singapore and its attractions is easy, safe, and clean. For more information, please visit: https://www.visitsingapore.com/en/
Transportation Information
Singapore's public transport is fast and efficient. The MRT (Mass Rapid Transit) and bus systems have an extensive network of routes around the city: https://www.visitsingapore.com/travel-guide-tips/getting-around/
Visitors can use the following payment options for their journey (More details please see https://www.lta.gov.sg/content/ltagov/en/getting_around/public_transport/plan_your_journey.html#collapse-content-tab_yellow_new-PayingforYourRide):
Get a Singapore Tourist Pass (STP), a special EZ-Link stored-value card which will allow you unlimited travel for one, two or three days.
Stored-Value Smartcard (EZ-Link / NETS FlashPay): These cost $10 and come with a stored value of $5 for you to use on your commutes. You'll be able to purchase these at Passenger Service Centres in train stations, any SimplyGo Ticket Office or convenience stores such as 7-11, Buzz and Cheers.
You can use your foreign-issued Mastercard and Visa contactless bank cards, as well as your mobile wallets for the payment of public transport fares in Singapore. No registration is required.
For more useful information—including traffic news, journey planning and nearby transport services—download the MyTransport.SG app.
Summary of Transport Options
Mass Rapid Transit (MRT)
The conference venue has direct access to Bayfront MRT station (CE1/DT16). The station connects to the Circle and Downtown Line of Singapore's Mass Rapid Transit (MRT) train system. MRT services to/from Bayfront MRT station operate daily from approximately 6am to 12am midnight.
Most of Singapore's attractions are just a short walk away from an MRT station, making our trains a great way to get around.
MRT System MAP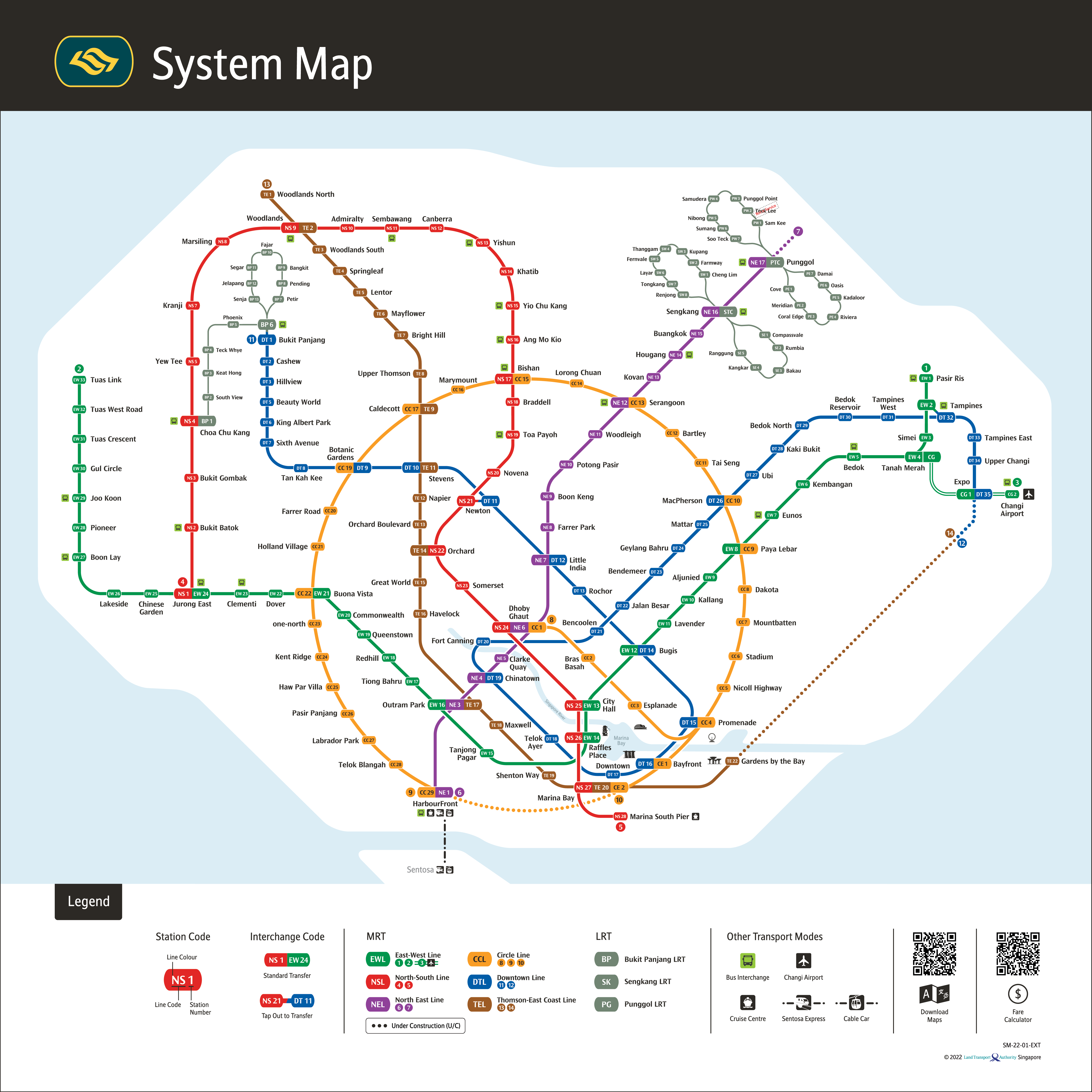 Bus
Singapore's bus routes are also some of the most scenic, allowing one to indulge in the lush greenery and beautiful architecture of our 'city in a garden.
Bus services: 97 / 106 / 518 / 133 / 502
Bus stops:
03509 – Marina Bay Sands Hotel (outside Hotel Tower 2)
03501 – Marina Bay Sands Theatre (outside Sands Theatre, opposite Hotel Tower 3)
03511 – Marina Bay Sands MICE (outside Sands Expo & Convention Centre, opposite Hotel Tower 1)
03519 – Opp. Marina Bay Sands MICE (opposite Sands Expo & Convention Centre, adjacent to Hotel Tower 1)
Taxi or Ride-hailing apps
Taxis are comfortable and especially handy if you want to go to places not accessible by the bus or MRT. Cabs here are metered, but there may be surcharges depending on when, where and which company's taxi you board.
You can hail a taxi by the roadside at most places, or by queuing for one at a taxi stand, which you'll find at most malls, hotels and attractions.
Alternatively, you may use one of the ride-hailing applications available in Singapore to book a ride from your preferred pick-up point to your desired destination. Some options available include Grab, Gojek, Ryde and TADA.
Marina Bay Sands Pick-up/drop-off points:
Outside Sands Expo & Convention Centre (Closest to conference venue)
Sheares Link outside Hotel Tower 1
Bayfront Avenue outside Hotel Tower 3
Outside The Shoppes